Domane AL 5 Gen 4
Details
Domane AL 5 is a speedy and versatile road bike that's a perfect starting point for anyone looking to get into road riding. With an Alpha Aluminum frame, clearance for larger tires, a 12-speed Shimano 105 drivetrain, top tube mounts, and an all-day road comfort geometry — the Domane AL 5 is perfect for casual pedaling, group rides, fast commutes, and even venturing beyond paved paths to most gravel roads.

Why you'll love it
- A totally versatile and smooth ride that's a perfect choice for your first performance road bike
- Versatile 40mm tire clearance (as measured) lets you run bigger tires for extra comfort on most gravel roads
- Internal cable routing and an integrated cockpit provide premium looks and a clean aesthetic
- Rack, fender, and top tube mounts make it easy to carry all the gear you'll need
- Powerful disc brakes allow for super-fast stopping power in all conditions

It's right for you if…
You're looking to venture into the world of road bikes and want one that's comfortable, smooth, and most importantly, won't break the bank. You want to ride primarily on roads but also want a bike that can handle a rail trail or crushed gravel path and versatile gearing that can handle any hill. Days spent pedaling under the sun sound perfect and you need a bike that is comfortable enough to let you ride as long as you see fit.

The tech you get
A 100 Series Alpha Aluminum frame with advanced tube shaping for high-end looks and ride quality, a Shimano 105 12-speed groupset, powerful disc brakes for all-weather stopping, super durable wheels, integrated frame mounts for carrying additional gear, and 32mm tubeless ready road tires for added cushion, and flared handlebars for extra control and stability.

The final word
Domane AL 5 is a true road bike and the perfect option if you're just getting into riding. It's comfortable for long days, quick enough to hang with the group, and extremely versatile for when you're ready to venture off-road.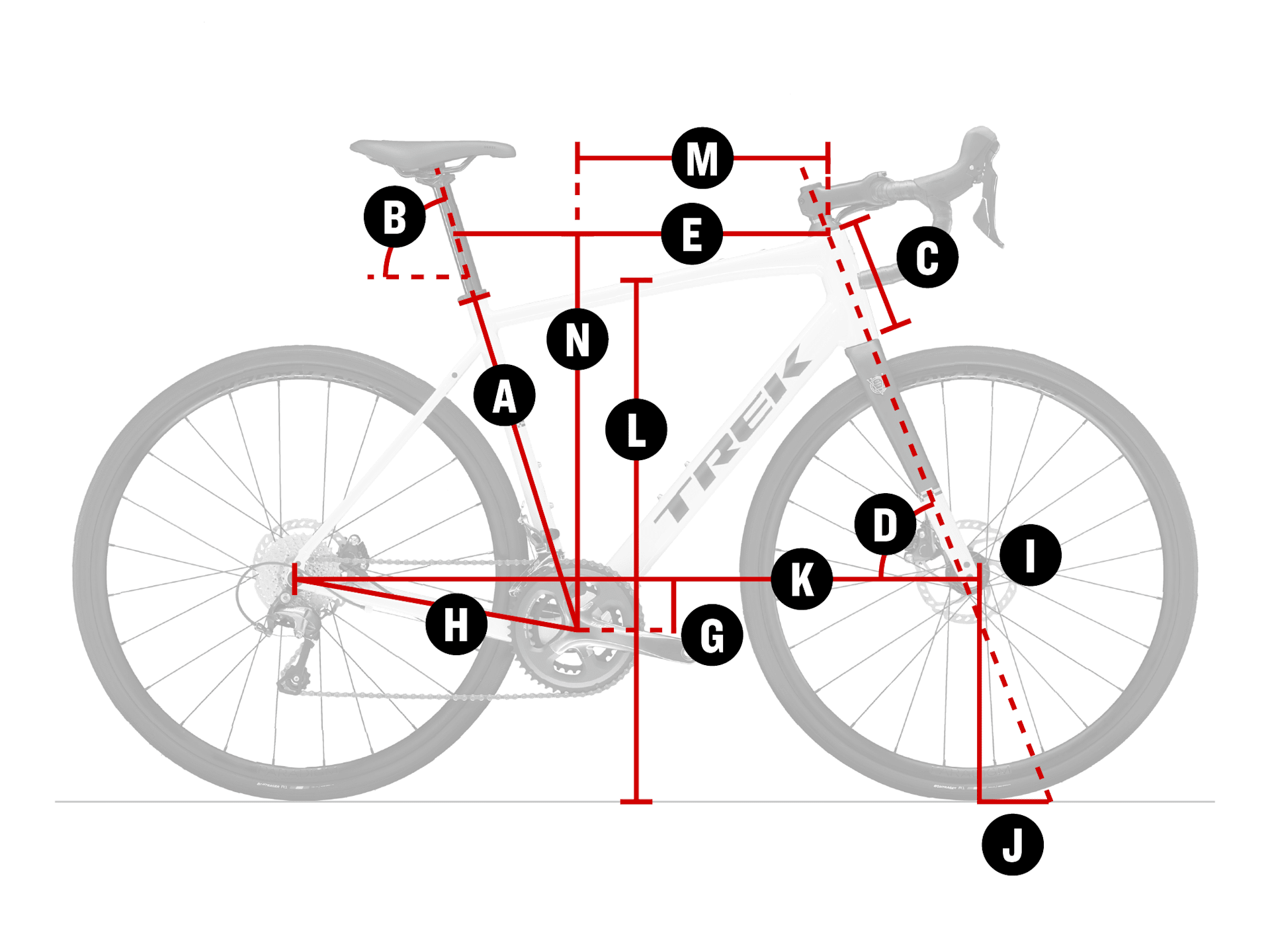 Sizes:

| Frame size number | 49 cm | 52 cm | 54 cm | 56 cm | 58 cm | 61 cm |
| --- | --- | --- | --- | --- | --- | --- |
| Wheel size | 700c | 700c | 700c | 700c | 700c | 700c |
| A — Seat tube (cm) | 44 | 47.5 | 50 | 52.5 | 54.8 | 57.6 |
| B — Seat tube angle | 74.6° | 74.2° | 73.7° | 73.3° | 73.0° | 72.7° |
| C — Head tube length (cm) | 12.3 | 14.5 | 16 | 17.5 | 19.5 | 23.5 |
| D — Head angle | 70.8° | 71.3° | 71.3° | 71.9° | 72.0° | 72.1° |
| E — Effective top tube (cm) | 51.6 | 53 | 54.2 | 55.4 | 56.7 | 58.6 |
| G — Bottom bracket drop (cm) | 8 | 8 | 8 | 7.8 | 7.8 | 7.5 |
| H — Chainstay length (cm) | 42.5 | 42 | 42 | 42 | 42.5 | 42.5 |
| I — Offset (cm) | 5.3 | 5.3 | 5.3 | 4.8 | 4.8 | 4.8 |
| J — Trail (cm) | 6.6 | 5.9 | 5.9 | 6.1 | 6 | 6.3 |
| K — Wheelbase (cm) | 100.1 | 100.3 | 101 | 101.8 | 102.2 | 103.8 |
| L — Standover (cm) | 71.7 | 73.5 | 75.4 | 77.6 | 79.6 | 84.2 |
| M — Frame reach (cm) | 36.8 | 37.1 | 37.4 | 37.7 | 38 | 38.5 |
| N — Frame stack (cm) | 54 | 56.1 | 57.5 | 59.1 | 61.1 | 64.6 |
| Stem length (cm) | 80 | 90 | 90 | 100 | 100 | 110 |
Sizes:

| Frame Size | Rider Height (in) | Rider Heigh (cm) | Rider Inseam (in) | Rider Inseam (cm) |
| --- | --- | --- | --- | --- |
| 49 | 5'1" - 5'4" | 156 - 163 | 29" - 30" | 74 - 77 |
| 52 | 5'4" - 5'6" | 163 - 168 | 30" - 31" | 76 - 79 |
| 54 | 5'6" - 5'9" | 168 - 174 | 31" - 32" | 78 - 82 |
| 56 | 5'9" - 5'11" | 174 - 180 | 32" - 33" | 81 - 85 |
| 58 | 5'11" - 6'1" | 180 - 185 | 33" - 34" | 84 - 87 |
| 61 | 6'1" - 6'3" | 185 - 191 | 34" - 35" | 86 - 90 |
Reviews